By: David J. Smith, September 18, 2017
This week is Peace Week, culminating with the International Day of Peace on Thursday, September 21.   The UN General Assembly is in session this week, having officially opened last week with an emphasis on the world's people.  Conflict and war is an ever present reality today.   The Council on Foreign Relations (CFR) tracks the current conflicts through its Global Conflict Tracker.   Many of these conflicts rarely make the headlines in the local paper, or the landing page of CNN.  Americans in particular are more fixated on domestic politics in the time of Trump.  But violent events in other parts of the world can affect us in significant ways, especially if they escalate.
For day one of Peace Week, I recommend you learn about conflicts taking place in other parts of world that are not being covered in the mainstream media.
A few I would recommend looking at include:
Crisis in Burundi.  A Great Lakes Region (I don't mean the U.S./Canada Great Lakes, but the ones in Africa)  country, Burundi has been independent from Belgium from 1962. Since then however there have been a series of wars in the 1970s and 1980s leading to a 12-year civil war in 1993 in which 300,000 people were killed.  The roots of the current crisis stems from the election for  a 3rd term of the current president in violation of the country's constitution. As reported by CFR:
Weak institutions, extreme poverty (Burundi is consistently listed as one of the top three poorest countries in the world), and a colonial legacy that fostered ethnic divisions have contributed to the country's violent history. This violence risks repeating itself if the political crisis is not resolved. In the past, authoritarian governance and successive episodes of mass violence led to large-scale civil war between ethnic groups.
Click here to read more about Burundi and the current crisis.
China's Crackdown on the Uighur People. The precise number of Uighurs (wee-ger) are difficult to come by, but some 15,000,000 live in China today.  They are a Muslim minority concentrated in China's western Xinjiang province.  The current crackdown by the Chinese government intensified in 2009.
As reported by the BBC:
The Han Chinese (the majority Chinese population making up to 92% of the total population) are said to be given the best jobs and the majority do well economically, something that has fuelled resentment among Uighurs.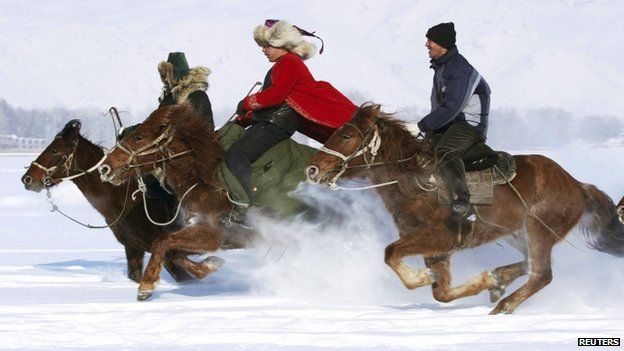 Activists say Uighur commercial and cultural activities have been gradually curtailed by the Chinese state. There are complaints of severe restrictions on Islam, with fewer mosques and strict control over religious schools.
Rights group Amnesty International, in a report published in 2013, said authorities criminalised "what they labelled 'illegal religious' and 'separatist' activities" and clamped down on "peaceful expressions of cultural identity".
In July 2014, some Xinjiang government departments banned Muslim civil servants from fasting during the holy month of Ramadan. It was not the first time China had restricted fasting in Xinjiang, but it followed a slew of attacks on the public attributed to Uighur extremists, prompting concerns the ban would increase tensions.
Read more about the conflict here.
Mexican Drug War.   Since the escalation of violence in 2006, some 80,000 Mexicans, including many children, have been killed.
As report in CFR:
Due to its weak and corrupt law enforcement institutions, Mexico is home to one of the world's largest and most sophisticated drug networks. Mexico's drug-related organized crime groups began their rise to prominence in the late 1980s in the aftermath of the dismantling of Colombia's drug cartels. In the absence of the Colombian drug supply, Mexican cartels expanded beyond their original role as couriers for Colombian gangs to wholesalers. In order to increase their profits and influence, groups battle one another for control of territory. They often possess greater coercive force and ruling capabilities than the often weak or corrupt local government. In 2006, former Mexican President Felipe Calderon launched an initiative, in partnership with the United States, to combat the cartels with military force, which significantly escalated violence and claimed thousands of lives, including civilians.\
Because of 90% of illegal cocaine comes through Mexico, this conflict is of particular concern the U.S. government.
Read more about the conflict here.