Solano Community College in Fairfield, CA  on February 11, 2014 hosted David J. Smith who spoke to students about human rights and conflict resolution.   Invited by Dr. Karen McCord, counseling and psychology faculty, he spoke to students participating in a career education learning community.  His presentation focused on examining global human rights, conflict resolution, and peacebuilding career pathways.   Students engaged in a number of activities that challenged their understanding of what constitutes a human right. He was visiting Solano as part of an outreach visit for Street Law, Inc. which has an active program to promote human rights, civic engagement and legal education in community colleges.
Solano Community College advances peacebuilding through a range of courses including SOCS 030 Peace, Non Violence and Conflict Resolution and PLSC 019 Human Rights and Sexual Orientation, both part of its transfer degree program in sociology.  Solano supports the aspirations of minority and students needing support while pursuing college through its Umoja Program Scholars which is directed by Dr. McCord.
Smith used the following model with students to discuss "indirect action" peacebuilding focused careers such as education, criminal justice, health care, and law, and "direct action" fields such as humanitarian work, mediation, and diplomacy.  He pointed out that careers are often micro-focused, that is, working with individuals; meso-focused, working with groups; and macro-focused, working in global conflict situations.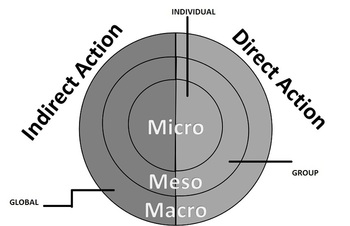 From David J. Smith, "Starting a Career Building Peace," Career Convergence,  National Career Development Association, 2/1/11